Prevention Campaign KRIPO Children's Colouring Book
Prevention campaign Kripo children's colouring book in the greater Neustadt area – Pitzek engages GENIAL LOKAL as sponsor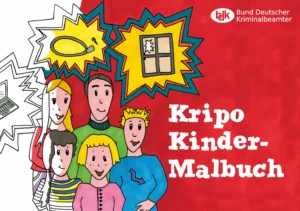 Cover children's colouring book, Quelle: BDK
The issue of prevention for school-age children is very important. Children need to be reminded that they should not go out with anyone or get into anyone's car without parental permission! Introducing this to children playfully with a colouring book convinced us!
The Association of German Criminal Police Officers (BDK), with its professional competence and its demands on political decision-makers, stands for a modern security policy in Germany that takes the interests of citizens in effective crime fighting and prevention into account to a high degree – we think that´s good!
In order to achieve this goal, the BDK publishes, among other things, DIN A5 brochures on individual prevention topics, which are distributed nationwide. They are available in pharmacies and schools, as well as in doctors' waiting rooms and in target groups that correspond to the topic of the brochure.
By the way, the Kripo children's colouring book is now also available in sign language on the BDK Youtube channel!