OUR COLLEAGUE, SABINE HELL-KUNCINGER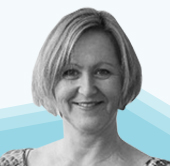 Hobby and passion
Essential oils
"Essential Oils"
and their connection to GMP – complete purity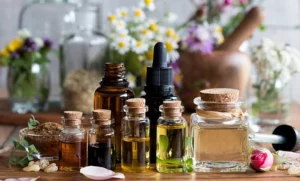 Synthetic or harvested from natural sources by means of steam distillation, extraction, or squeezing plants or parts of plants.
Interview with our colleague from Vienna, Sabine Hell-Kuncinger:
So, Sabine: Why essential oils?
They work at all levels (physical, mental, psychological), and a scent molecule reaches the limbic system in three seconds.
Essential oils have been used for thousands of years, and they can be found in every herb, every plant, in blossoms, and so on. They are PURE NATURE – which is why these molecules manage to penetrate our cell membranes and reach directly into the cell and its nucleus.
Essential oils can have stimulating effect and work as pick-me-ups (these include orange, lemon, lime, and grapefruit – that is, all citrus oils) – and in this form are perfect for our daily challenges at work; they can calm you and your spirit (most people are familiar with lavender); they can cool you off and stop your headache (peppermint, spearmint); they can stop or at least slow inflammatory processes (frankincense), relieve colds (hot tea with lemon, ginger, and a special "thieves" oil blend), and much more.
So, Sabine, to summarise: These oils are extremely flexible. About as flexible as we have to be in our job, right? Do you pay attention to how the oils are produced and were they come from?  Yes, I was really impressed by one company because the quality of its essential oils was absolutely pure. Starting with planting, all the production steps through to packing were carefully monitored and documented precisely.That is GMP style.
You can even visit the farms where individual plants are raised and help harvest them.
How varied are these oils? Are there special characteristics?
Each essential oil, even if it comes from the same area, smells different. Depending on the weather conditions, the essential oils have a slightly different composition each year. A single drop of rose essential oil requires about 30 petals. That comes to between three and a half and five tons for a litre of essential oil.
By the way, rose is considered a mood enhancer and is very helpful for depression.
Can I use these oils in my daily routine?
Of course essential oils can also be used for cooking. If you are baking, you can use vanilla, lemon, and so on. If you are cooking, you can use basil, sage, dill, and so on. Either way, essential oils can provide the extra kick you need.
What is the best way to use essential oils?
You can apply them to your skin, evaporate them with a diffuser, and take some of them orally.
Summary:
The thing that essential oils have in common with Pitzek GMP Consulting services is that a selection of both can be used in a targeted manner to address specific issues!