New Power at the Head of Pitzek GMP Consulting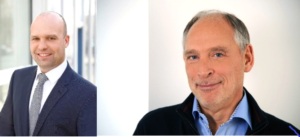 Since 1/8/2021, Dirk Leutz (left) has been the new Managing Director of Pitzek GMP Consulting GmbH. He succeeds Dr. Rainer Maué (right), who left the company of his own accord. He is facing new challenges.
We regret to announce the departure of Dr. Maué, who pursued company business with great personal dedication, moving it forward. We would like to thank him for his valuable contributions and wish him all the best for his future endeavours.
At the same time, we are very pleased to announce that Dirk Leutz, who had been serving as Technical Manager/Division Manager Engineering, will be the new Managing Director. We are convinced that Mr Leutz and the Pitzek GMP Consulting team can continue with the successful work of the founder and former Managing Director and refine it.
After his training as a brewer and maltster, Dirk Leutz studied food technology. He began his career at Krones AG. It was there that he first encountered aseptic techniques. After a few stages in his career, he took over as technical and personnel head of a large team and in 2019 joined Pitzek GMP Consulting GmbH as departmental manager in international plant construction in the beverages industry. From the very beginning, he has loved Pitzek GMP Consulting's corporate philosophy, and he established himself quickly in the company.
"Dirk Leutz is a familiar colleague for us and a familiar point of contact for our customers. We are convinced that his expertise, empathy, and down-to-earth demeanour will enable him to make great contributions to our company's further growth," says Thomas Pitzek, founder of Pitzek GMP Consulting GmbH.
Leutz is greatly looking forward to his new duties and intends to continue to press forward with positive corporate development and competent services in the pharmaceuticals industry. He considers systematically orienting on customer utility and fostering customer trust to be especially important. Initially, of course, he will continue to be available to customers in his old function as Technical and Division Manager Engineering.
He describes the challenges facing him as follows: "Every day, we are tasked with finding a balance between meeting the stringent demands of our customers and transacting projects on an equal footing within the planned framework. I am looking forward to working with my team to develop and establish more innovative solutions for our customers and business partners. We want to foster exceptional trust in our customers by offering the best possible service and close, professional support on the part of our GMP experts."
Pitzek and Leutz are excited about their future together: "Pitzek GMP Consulting has a great deal of potential for developing more specific competences and solutions for our customers in the GMP-regulated environment."