Ingeniously Global, Ingeniously Local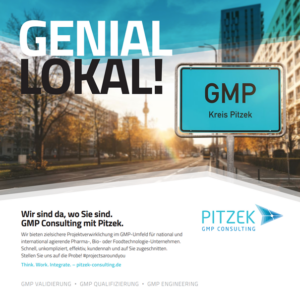 Consulting competence is right around the corner. As it has been for ten years..
Pitzek GMP Consulting, your pharmaceuticals, biotech, and food technology expert in the Rhine-Main-Neckar area and Berlin, Germany, and Vienna, Austria.
NNew career opportunities and consulting competence acquired by changing the location of Pitzek GMP Consulting GmbH's GMP experts..
The Austrian subsidiary of Pitzek GMP Consulting is moving from Salzburg to Vienna.
There are a variety of factors that affect a company's growth and thriving. The company is changing its location to be closer to the pharmaceuticals industry and thus to the customers. Vienna has established itself as the commercial hub of the Austrian pharmaceuticals industry. A strong location requires bold ideas – the kind the Pitzek GMP Consulting can provide.
All customers, partners, and advertisers should therefore note a new Pitzek GMP Consulting GmbH (Austrian subsidiary) for both appointments and correspondence.
In future, the office can be reached atPitzek GMP Consulting GmbH
Subsidiary Austria
Weihburggasse 21/13
1010 Wien
Mobil
Festnetz  +43 (0)143 800 58 
New outlook with a new managing director
Since August 2021, Dirk Leutz has been the new managing director and thus the man responsible for advancing Pitzek GMP Consulting's business development, as he has been doing with great dedication. Says Leutz, "Previously, I was Technical Manager/Division Manager Engineering for Pitzek. So I am at home in the organisation. I am looking forward to my new challenge and to being able to provide new ideas." Thomas Pitzek, founder of Pitzek Consulting, adds, "We are convinced that Mr Leutz, with his expertise and level-headedness, is a find for our company and our customers." In the pharmaceuticals circles in Vienna, we intend to remain very close to our customers. This ensures efficiency with reduced costs, quick reaction times, and short travel distances."
Pitzek GMP Consulting has been offering purposeful project management in the GMP area for pharmaceuticals, biotech, and food technology companies for ten years. Its services are customised, fast, uncomplicated, effective, and customer-oriented.
From its Location Neustadt/Weinstraße Pitzek can quickly reach customer locations in the Palatinate and the Rhein-Main-Neckar area. Pitzek offers the same services in the   from the Berlin branch , supporting customers with all its expertise. 
From new construction to comprehensive restructuring to minor adjustments, Pitzek's goal is to develop GMP-compliant concepts, effectively optimise processes, and reduce costs, all while carefully adhering to requirements and regulations.
"Our customers in the Rhine-Neckar area and in the Northeast of Germany enjoy local proximity to our Neustadt/Weinstraße and Berlin branches. This ensures reduced costs, quick reaction times, and short travel distances. In other words, we are looking for proximity to the customer in a literal sense," says Leutz.