donations instead of gifts
Traditions are created through time and routine. Friendships through a good togetherness and common interests
The company Pitzek GMP Consulting (short: Pitzek) from Neustadt and Lichtblick meanwhile combines both.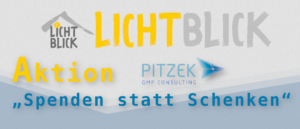 With its "donations instead of gifts" campaign, the Pitzek company is once again doing without christmas cards and promotional gifts for corporate customers and stakeholders this year.
Sustainability in this case is not only the renunciation of these goods, but also the social investment of the money saved. A total of €1000 was donated to the Lichtblick day centre. The money will be used to support local efforts to combat social isolation. This is not the first time the Group has shown its social commitment: In previous years, it has already made a name for itself by donating money and goods. The company has also provided manpower for food distribution and other special activities. The employees of Pitzek are very welcome at Lichtblick and their energy is highly appreciated.
We´re all united in wanting to see more social cohesion and solidarity. By donating, we at Pitzek GMP Consulting want to set a good example.
Lichtblick would like to thank you for donating and getting involved. We are all looking forward to the next actions!