A GOOD DEED FOR THE REGION – DONATE AND HELP
In 2019, Pitzek GMP Consulting GmbH laid the foundation stone for a planned long-lasting partnership as a regional promoter of social projects of the Lichtblick day community centre in Neustadt an der Weinstraße. In 2021, it is also supporting Lichtblick with a donation amounting to €1.000,–- for its fight against poverty, social indifference and intolerance.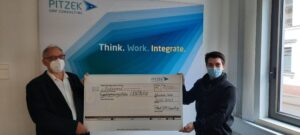 Robin Rothe, the new dedicated head of the institution, explains the social work of the Lichtblick day community centre to the team of Pitzek GMP Consulting GmbH in detail. "It isn't easy when such institutions are primarily dependent on donations. From part of the donations, full-time staff, who day after day do more than just espouse our aims, also have to be financed", says Rothe, head of Lichtblick in Neustadt since 1 September 2020.
The full-time staff as well as volunteers do an enormous amount of work every day and it is difficult for outsiders to imagine just how much they actually do. The signs of the times have been set: the clientele is undergoing a transformation, and this is why Lichtblick is fighting against old-age poverty and homelessness more vigorously than ever before. Every day, more than 50 people needing food come to the soup kitchen, at the moment situated in the Casimirianum; that is a lot. As breakfast is free here, many donations for coffee, milk and sugar are needed.
Nevertheless, Lichtblick does not want to complain; it is glad for every donation and all the more so for generous donations amounting to €1,000.- such as the one from Pitzek GMP Consulting in Neustadt an der Weinstraße.
In 2020, the consulting company for the pharmaceutical, food and biotechnology industries therefore decided that, in 2021, it would not give out any Christmas presents or send New Year's greetings by post, hopefully aiming to encourage its customers and business partners to make a contribution to the region and make a donation of €1,000- to Lichtblick. "Customer satisfaction and the satisfaction of our employees are very important for us and this is why we are naturally hoping for active affirmation of this campaign", says Dr. Rainer Maué, CEO of Pitzek GMP Consulting.
The donation cheque was handed over on Tuesday, 2.02.2021, in the new rooms of Pitzek GMP Consulting GmbH, Wallgasse 11, Neustadt, of course in compliance with all hygiene requirements.